Shabbat Services
We are holding in-person services, but we are requiring that all attendees provide proof of vaccination. If you're able, scan your vaccination card or your New York State Excelsior Pass and email a copy to Ken Kranz at

barken1993@gmail.com

. Our services start at 10am. We are also providing a Zoom connection for our services.
Meeting ID: 825 3638 4257
Password: 95399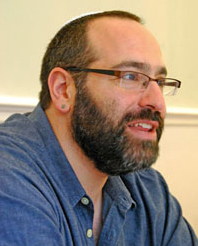 Several times a year and on the High Holidays, Rabbi Or Rose joins us to conduct services and workshops. Rabbi Rose is Director, Miller Center for Interreligious Learning & Leadership of Hebrew College in Boston. An esteemed author and editor, Rabbi Rose is also the creator of the weekly scriptural commentary series, "70 Faces of Torah," curator of the web-based project "PsalmSeason," and co-publisher of the "Journal of Interreligious Studies."
Holidays
In addition to Shabbat and the High Holidays, we celebrate other Jewish festivals throughout the year such as our popular Purim Schpiel; a Tu Beshevat Seder; reading the Book of Ruth for Shavuot; Sukkah Decorating and Sukkot Luncheon; and Chanukah Candle Lighting. Please see our weekly Update or the Calendar for details of coming events.
High Holidays
Abraham and Sarah's tent was open on all four sides. That image has guided us and we strive to create an environment that feels welcoming to young and old, full-timers and weekenders, women and men, single and partnered, straight, gay, and transgendered, the intermarried, the learned and the novice — indeed, anyone who decides that she or he wants to become part of a caring spiritual community.
To maintain our open tent, we do not require tickets or fees for the High Holidays. Of course, contributions of any amount to TCS/NT are always greatly appreciated as they help ensure that we can continue to serve the community in the coming years.
NOTE: Due to the rise of the Delta variant and increased Columbia County infection rate, we will be conducting our High Holiday services via Zoom this year. More info to follow.
Sun, October 17 2021 11 Cheshvan 5782